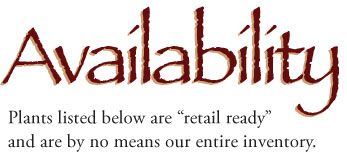 April 15, 2019
We are enjoying the simplest pleasures of spring . . . A personal favorite is Phlox Blue Moon
an early blooming native with a delightful fragrance that fills the air. We hope you also find
time to enjoy the gifts of the season.

We look forward to hearing from you and wish you all a GRAND season!
The Gang at Still Pond Nursery


For a downloadable Excel version of the current list, click here.

Website developed and maintained by: Lizard Graphics, Inc.