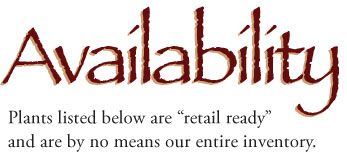 May 21, 2018
Rain, rain, go away!!

Knowing you need to be careful what you wish for, still that little ditty
runs through my head.

The PLANTS seem happy though . . . So far, so good!
We know a rainy week takes a toll on sales and installations so our thoughts
have been with you all . . . Hoping for a better, brighter week ahead!
The Gang at Still Pond Nursery

For a downloadable Excel version of the current list, click here.

Website developed and maintained by: Lizard Graphics, Inc.