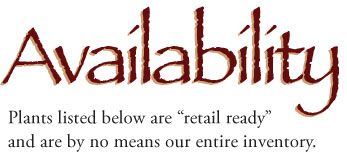 September 16, 2019
Are your Mum's showing any color yet??!?

Our Asters are PERFECT!! And so are the grasses . . . 'Tis the SEASON!!
We look forward to hearing from you and wish you all a GRAND season!
The Gang at Still Pond Nursery

For a downloadable Excel version of the current list, click here.

Website developed and maintained by: Lizard Graphics, Inc.