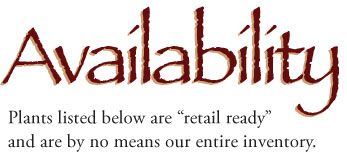 September 17, 2018
Hello Sunshine!!!
Where ya been?
Our crops have been holding steady through all these weather fluctuations. Oh, we've had
our hands full with spacing and cutting unhappy things back but it is remarkable how HAPPY
some things are . . . So there are plenty of beautiful choices listed this week to brighten up
those retail benches, landscaping projects and GARDENS!

Asters are in their prime . . . This is their time to shine!
FALL is for PLANTING and we've got PLANTS!!!!



We look forward to hearing from you.
The Gang at Still Pond Nursery

For a downloadable Excel version of the current list, click here.

Website developed and maintained by: Lizard Graphics, Inc.