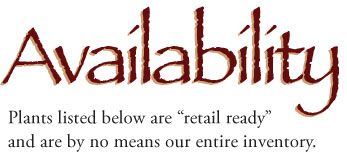 June 18, 2018
June is when we really SHINE!

We may be late out of the gate but we are really hitting our stride . . .
COLOR ABOUNDS and so many great plants are just making their way
onto availability. We wish you could see it ALL . . .

We look forward to hearing from you.
The Gang at Still Pond Nursery

For a downloadable Excel version of the current list, click here.

Website developed and maintained by: Lizard Graphics, Inc.