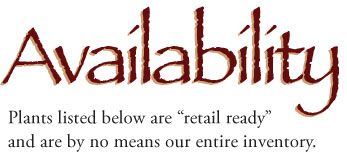 August 13, 2018

The Monarch caterpillars are really enjoying our Asclepias crop . . .

despite our efforts to relocate them to a safer place.
They were a little late but are here now in abundance. The natural wonders never cease
at Still Pond! We invite you to come, shop & wander and enjoy the beauty that surrounds
us each and every day.

We look forward to hearing from you.
The Gang at Still Pond Nursery

For a downloadable Excel version of the current list, click here.

Website developed and maintained by: Lizard Graphics, Inc.