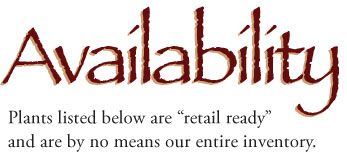 April 16, 2018

Texture, texture, texture . . .

So much happening here . . . It's not all about the flowers! Or IS IT? There are glorious Veronica
Georgia Blue and Phlox subulata if color is your thing.
Either way, we'll be happy to hear from you!

The Gang at Still Pond Nursery

For a downloadable Excel version of the current list, click here.

Website developed and maintained by: Lizard Graphics, Inc.