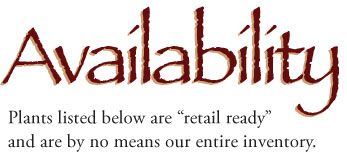 October 18, 2021
There is still COLOR in the nursery and LOADS of options for garden installations!!
The rain came before I got many good shots this afternoon.
So graeful for the 1/4" of rain thus far . . . We certainly needed it!
We are delighted by all the talk of projects for fall on tap . . . hopefully we can help out!
Thanks ever so much for your business, loyalty, and friendship!
We look forward to hearing from you!
The Gang at Still Pond Nursery

For a downloadable Excel version of the current list, click here.

Website developed and maintained by: Lizard Graphics, Inc.