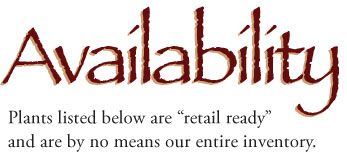 May 3, 2021
It's MAY and our list is growing . . . as promised.
The ANNUALS are ready to go.
Check out all the additions to this week's availability!
Please be mindful of our notations. . . if it says 'small' or 'young,'
it may not be showy enough for your retail benches.
Thanks ever so much for your business, loyalty, and friendship!
We look forward to hearing from you!
The Gang at Still Pond Nursery

For a downloadable Excel version of the current list, click here.

Website developed and maintained by: Lizard Graphics, Inc.