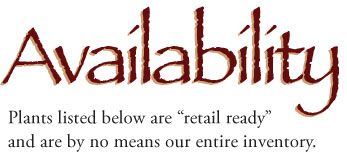 May 20, 2019
So many HAPPY faces after such a beautiful weekend!
Perfect gardening weather!

We have a nice selection to help you fill those holes in your retail benches or the
ones in your landscaping projects.

Our list keeps growing and growing!
We look forward to hearing from you and wish you all a GRAND season!
The Gang at Still Pond Nursery

For a downloadable Excel version of the current list, click here.

Website developed and maintained by: Lizard Graphics, Inc.