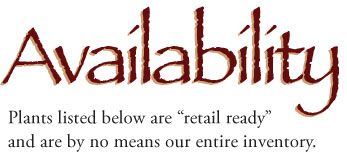 June 17, 2019
Our season keeps going strong and it would be impossible without this gang!

We are grateful for each one of these Ladies and for the hard work and dedication they
bring each day.
Pictured left to right:
Emily Bechtle - driver
Maria Rosales - our potting machine!
Camille Leavitt - Annuals and field manager
Susan Hill - order puller, sales and my right arm!
Hope Pfleger - sales and production manager
Maietta Ludwig - Watering Queen!
Our crops are a testament to their dedication . . . We are very proud of both our team
and the beautiful perennials they grow. Stop in one day and watch them work their magic!

We look forward to hearing from you and wish you all a GRAND season!
The Gang at Still Pond Nursery

For a downloadable Excel version of the current list, click here.

Website developed and maintained by: Lizard Graphics, Inc.