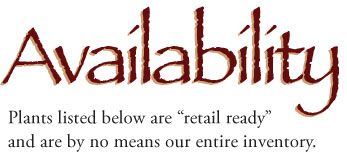 October 29, 2018
The sun sets on another season at Still Pond.
Late Fall always brings with it a bit of relief as the season winds down AND a deep appreciation
of our customer friends. After all, where would we be without you? We have survived a weather
challenged year and are grateful to come out of the other end of it in good shape. Our current
inventory should overwinter easily and we are beginning to think hard about next season's crops.

Although we still have beautiful inventory . . .
This will be our last availability for the 2018 season. Updates will be available upon request.
We do not begin cutting back our crops until they get snapped by the cold . . . Usually mid-November.
That's when the Ladies will return and begin their ruthless assault. Still, we'll be here and have plants
to sell until YOU decide the season is over.
If you need anything, please give us a call!

Thanks ever so much for your business, loyalty and friendship!



We look forward to hearing from you.
The Gang at Still Pond Nursery

For a downloadable Excel version of the current list, click here.

Website developed and maintained by: Lizard Graphics, Inc.