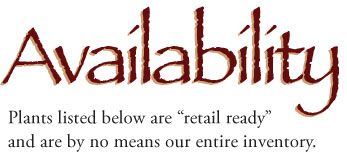 July 22, 2019
HOT enough for ya??
We suggest you garden in the SHADE on these dog days of summer.
There are six houses and yard FULL of COOL shady options here . . .
Come and see for yourself!
We look forward to hearing from you and wish you all a GRAND season!
The Gang at Still Pond Nursery

For a downloadable Excel version of the current list, click here.

Website developed and maintained by: Lizard Graphics, Inc.