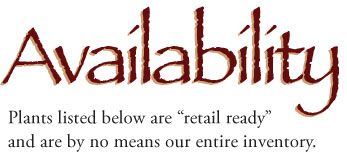 November 1, 2021
It's bittersweet but it looks like the weather is finally going to act as it should . . .
Cold nights forecast for the week ahead means that cutting back season will
begin shortly.
But in the interim, if you have got planting projects, we have got INVENTORY!
Beginning the week of 11/8 our hours will be 9am - 3pm (Monday - Friday) until we
finish the cutting-back project. If you plan to stop by to pickup or shop around, best to
check in to be sure we are here.
Although this is the final weekly availability for the season, inventory updates will be
available upon request.
We are mighty grateful for another awesome season and we thank you all wholeheartedly
for your business and support! Please let us know if you have any needs yet this fall. We
are always eager to sell more plants!
Thanks so much - Take GOOD care,
Kim and the Ladies at Still Pond
Thanks ever so much for your business, loyalty, and friendship!
We look forward to hearing from you!
The Gang at Still Pond Nursery

For a downloadable Excel version of the current list, click here.

Website developed and maintained by: Lizard Graphics, Inc.