---
See you in the Spring!
We will be back in the spring with lots of healthy beautiful plants for you to buy!
---
Longwood Garden Nursery Tour Visitors
We had more visitors on June 14th. A bus load of eager shoppers came with the Longwood Garden's Nursery tour.

It was a whirlwind of shopping activity and after they left we loaded all their goodies in our truck and delivered them to Longwood.We were too busy to catch a picture while they were here but we do have this shot of the aftermath. We would like to Thank David Culp and Susan Nichols for including us on this years tour!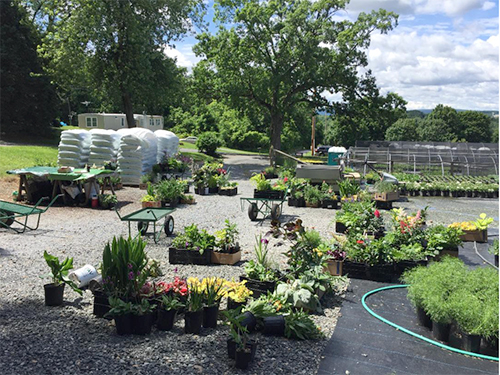 ---
We are In The News!
Owner Kim Bechtle was featured in an article in Grower Talks, a national magazine on nursery information and events. You can read the article by clicking here: Grower Talks Article. In the article, Kim discusses how she has been "Designing a Balanced Lifestyle". Enjoy!
---
Visitors!
Monday June 11th the Pennsylvania Heartland Herb Society stopped by the nursery for their Herbal Delights tour. As part of their full day bus tour, four bus loads of eager shoppers roamied the aisles of Still Pond. We were excited about the opportunity to host a small portion of their day.

website developed by: Lizard Graphics, Inc.